Welcome to Sandhurst Farm Forge
A Working Forge and Bed and Breakfast run by Charles and Kate Dickinson

We are pleased to announce that we have been given our "We're Good to Go Logo" by Visit England.
There have been changes made to the way we work so please bear with us as the safety and enjoyment of your stay is our priority.
Our stable block accommodation is naturally socially distanced, with two shower en-suite double rooms, both with their own entrance door. We always maintain a high cleaning standard but are also now adding an extra deep clean between guests. All teas, coffee and biscuits on the hospitality tray are individually wrapped, as are the toiletries in the shower room.
On booking with us, I will, as always send my own confirmation email to you with directions, and a few House Rules. This will now also have a breakfast menu attached and I would ask that you return your choices by at least the day before arrival, so that I can source everything that you require. The Kitchen/Breakfast room is situated at the other end of the stable block, allowing a variety of socially distanced Breakfast Options, dependent upon booking occupancy.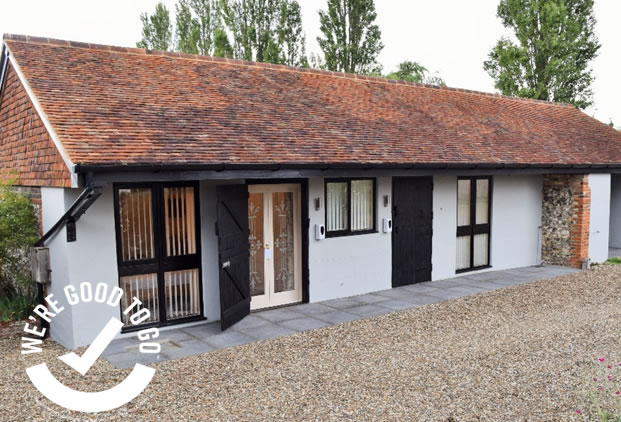 I will always wear a mask or visor and gloves, when delivering your breakfast. Please do ring us if you have any queries. There are contactless hand gels outside your room and the breakfast room, and we request that you use these on entry and exit of your room. Please adhere to any social distance signs and stay alert to protect others as well as yourself.
The Forge and Gallery are also "open", but we would appreciate a phone call before you wish to come. Tel: 01795 886854.
We look forward to your visit — socially distanced of course but still just as welcoming!!
On 31st May 2020 we had been hoping to celebrate 25 years at Sandhurst Farm Forge! Covid 19 decided to call a halt to any celebrations, and instead we found ourselves on "lockdown" The B&B had to close, but Charlie was fortunate in that he had some work already on the go to keep him busy for a while.
As true creatives, we all used the time to our advantage and produced artworks, caught up with all the DIY jobs, re-painted the B&B and did all the tasks that one never seems to have time for. Oh! and lots of gardening. To celebrate 25 years I managed to add 25 days' worth of photos from the last 25years to our Instagram, so please do go and have a look.
Please do keep up to date with the latest information by visiting our Facebook page.