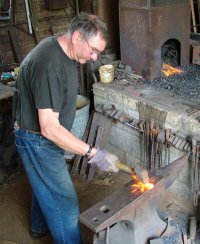 Charles Dickinson is a third generation Farrier and Blacksmith with over 40 years experience now working as an "Artist Blacksmith". Having served a seven year apprenticeship, he worked as a General and Agricultural Blacksmith and Farrier. He took over the Forge in Wragby, West Yorkshire from his father in the late 1960s.

Our family and business moved to Kent in 1995 and set up at Sandhurst Farm in Newnham. When he retired from shoeing horses, Charles had more time to express his artistic ability. Still using his traditional skills and tools, smokeless fuel coke fire and anvil, and after having produced some very high quality commissioned work, his ambition as he moves towards retirement is to try to give more time to his artistic side!! We're not sure he will ever totally retire!!

Recent pieces have included village signs for Newnham and Rodmersham, Circular Gates and restoration work which he does alongside the many candle sticks, fire grates, fire screens, curtain poles and garden sculptures, fashioned in mild steel, stainless steel and copper.

Whilst outdoor work often needs to have a paint finish, many indoor pieces can be finished using heat colouring and beeswax giving the steel the most amazing copper and blue colours.

The Forge is open Tuesday to Friday from 9am to 5pm, and on Saturday morning between 9 and 12. We try to keep to our opening times, but because we live and work at Sandhurst Farm Forge and due to the nature of his work, Charlie will not always have the fire lit. If you would like to visit, it is always wise to phone before arriving especially if coming from a distance away.

In July this year we are holding an exhibition called "Family Space" in the Lower Gallery of the Creek Creative Studios in Faversham. This is a joint exhibition by all 4 Dickinsons and runs from Tuesday 3rd July until Sunday 15th July inclusive between 10am and 4pm. See the poster below, and click on it to see a larger version.


East Kent Artists Open Houses 2018
This year the whole family is taking part in the Faversham Section of
East Kent Artists Open Houses
. We also have pastel artist Joanne Smith working with us.
All houses are open weekends during the festival (20th/21st, 27th/28th October & 3rd/4th November 2018 from 11am to 5pm unless otherwise stated).
If you are in the area please do come and pay us a visit!!